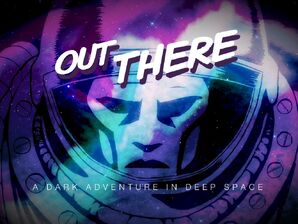 Welcome to the Out There Wiki
This is a wiki about the game Out There by mi-clos studio. It describes Out There Alliance Edition and Out There Omega Edition, which has been updated to include all the features that were first introduced by the Alliance Edition.
Out There
Out There is a rogue-like space-based strategy game. The player is a lone astronaut who has been woken out of stasis far from home and must explore the stars to learn what has happened. Gathering and managing resources is critical for survival.
You are an astronaut awaking from cryonics not in the solar system, but... out there... in a far and unknown place of the galaxy. In Out There, you will have to survive, tinkering your ship with what you can gather drifting in the void, and spot garden planets to refill your oxygen supply. 
Space is an hostile place ; dangerous and mysterious adventures will mark each step of your travel. You will not only meet intelligent species that won't care about you, but also deal with ancient powers linked to your destiny and the fate of mankind itself.
Survival and understanding of what is really at stake in the galaxy is the core of what Out There has to offer.
Features
Main Pages